Contact Us
The facility is located in the Natural Sciences Building (NSB) room 4309 on the 4th floor. This building is at the western edge of campus at the intersection of North Torrey Pines Rd. and La Jolla shores Dr. For the map of the building please click on this link.
Personnel
Mailing Address
Department of Chemistry and Biochemistry
Natural Sciences Building (NSB) Rm 4309
University of California, San Diego
9500 Gilman Drive
La Jolla, CA 92093-0378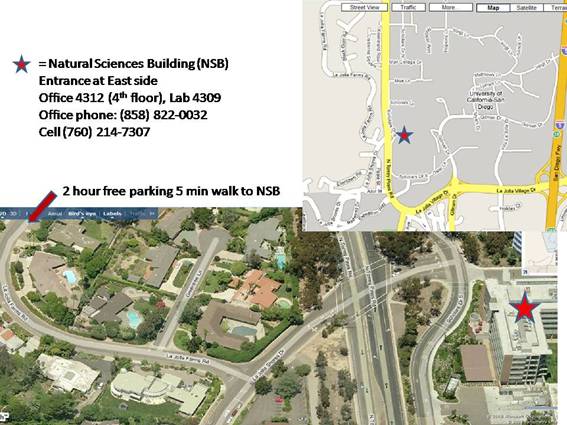 Campus Parking
Parking on the Main Campus requires a permit from 7 am to 11 pm. on weekdays. Between 7 a.m. and 11 p.m. Monday through Friday, you have two choices:
Purchase a Visitor Permit. These visitor permits are available for purchase at an automated permit dispenser (located at the visitor information kiosks at the Gilman Drive and North Point Drive entrances). V permits cost $1 per hour, up to $6 for a full day. You can park in any V, B or S spot for the amount of time you have purchased. The closest parking lots are P102 and P103.
Park at a Metered Spot ($1 per hour). Metered parking is available in lot P104. Please refer to the campus map to locate this parking lot.
Note: If you need a permit for longer than one day, read about the variety of short-term parking permits.